We offer various commercial flooring services, including Polished Concrete, Sealed Concrete, Interior Control and Isolation Joints, Epoxy Decorative Flakes, Epoxy Decorative Quartz, Epoxy Pigmented, and Urethane Slurry Pigmented and Decorative.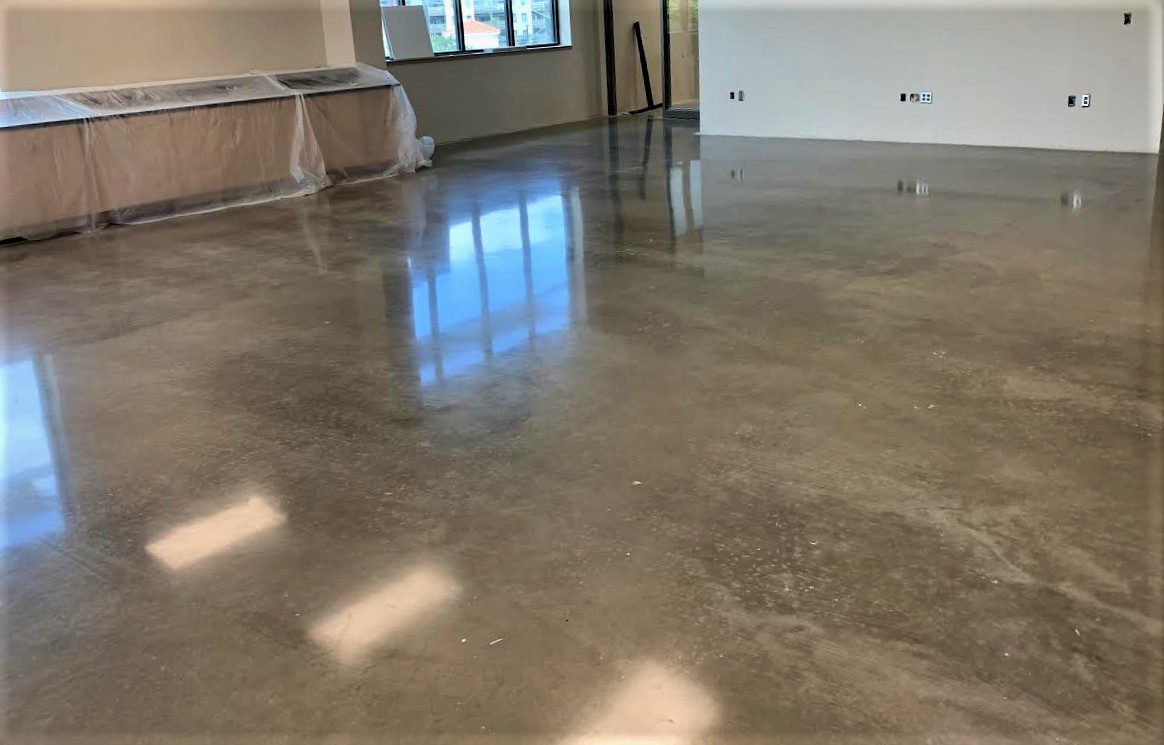 Polished concrete is a concrete floor chemically treated and ground down to a smooth, shiny surface with finer diamonds.
The diamond polishing process consists of 1 to 15 steps on average. The polished grinding procedure can begin with a course of 16 or 30 grit diamonds and then incrementally double the grit level each time, up to a final 1500 or 3000 grit, depending on the required gloss level.
A densifier hardens the concrete throughout the process, allowing the surface to be polished. A grouting chemical must be used to fill in any holes, cracks, or imperfections exposed during the grinding.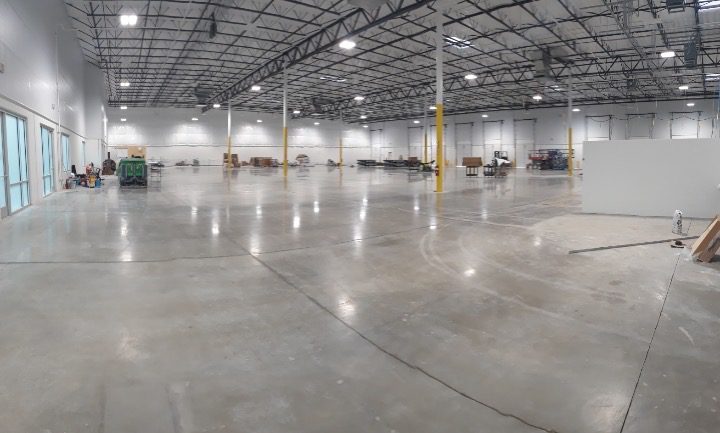 Densified/Sealed Concrete
A concrete densifier is a chemical applied to a concrete surface to fill pores, increasing surface density. Chemical densifiers are used on polished and unpolished concrete to reduce dusting and wear; on polished concrete surfaces, densifiers help concrete take a better polish and make the surface less permeable to liquids, so the slab does not require sealing.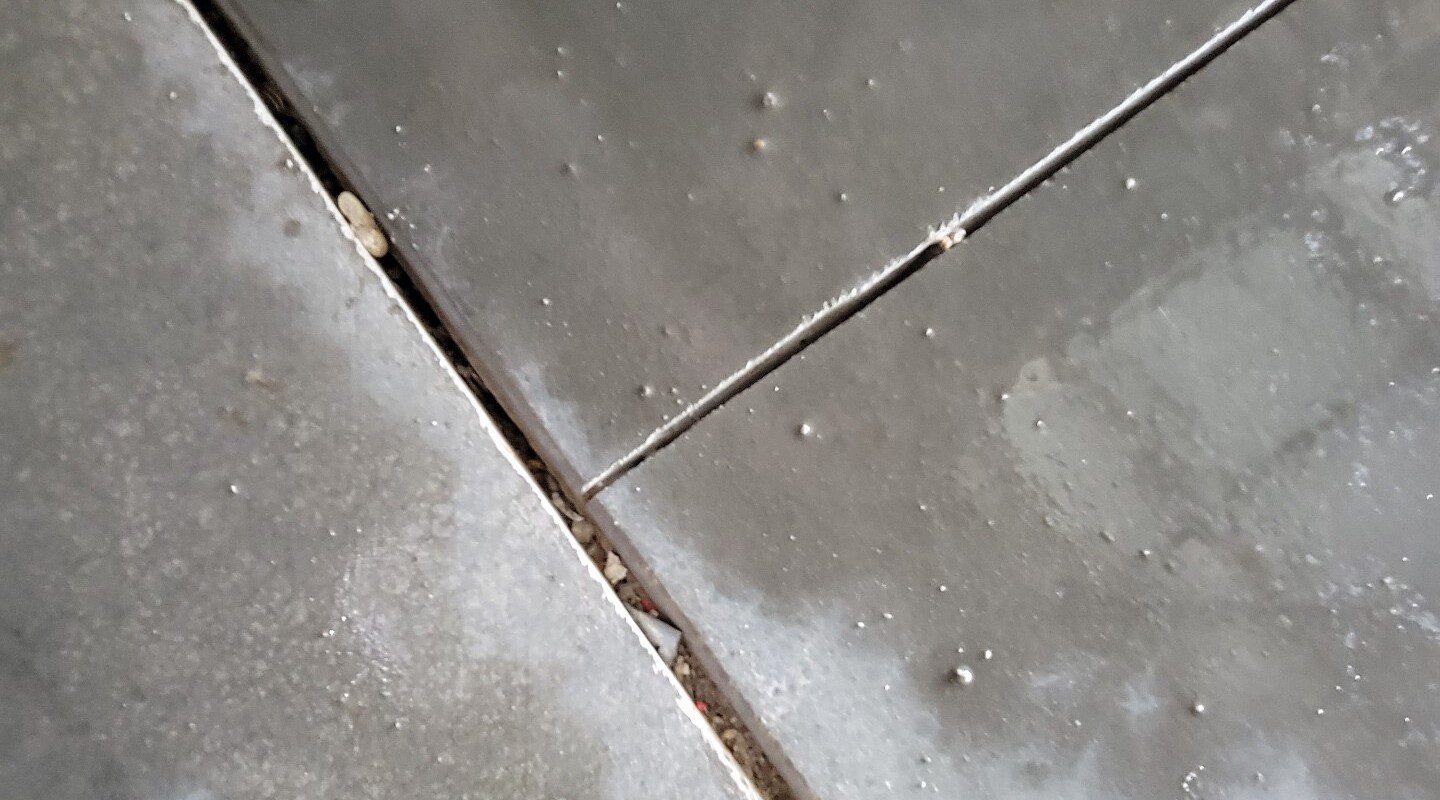 Interior Control and Isolation Joints
It allows the walls of the concrete joint to compress against it, rather than the concrete slabs squeezing against themselves. The joint filler also prevents the introduction of other materials not compressible from entering the joint, which could cause substantial failure as well. the joint filler also helps avoid materials that may degrade the concrete from entering the joint.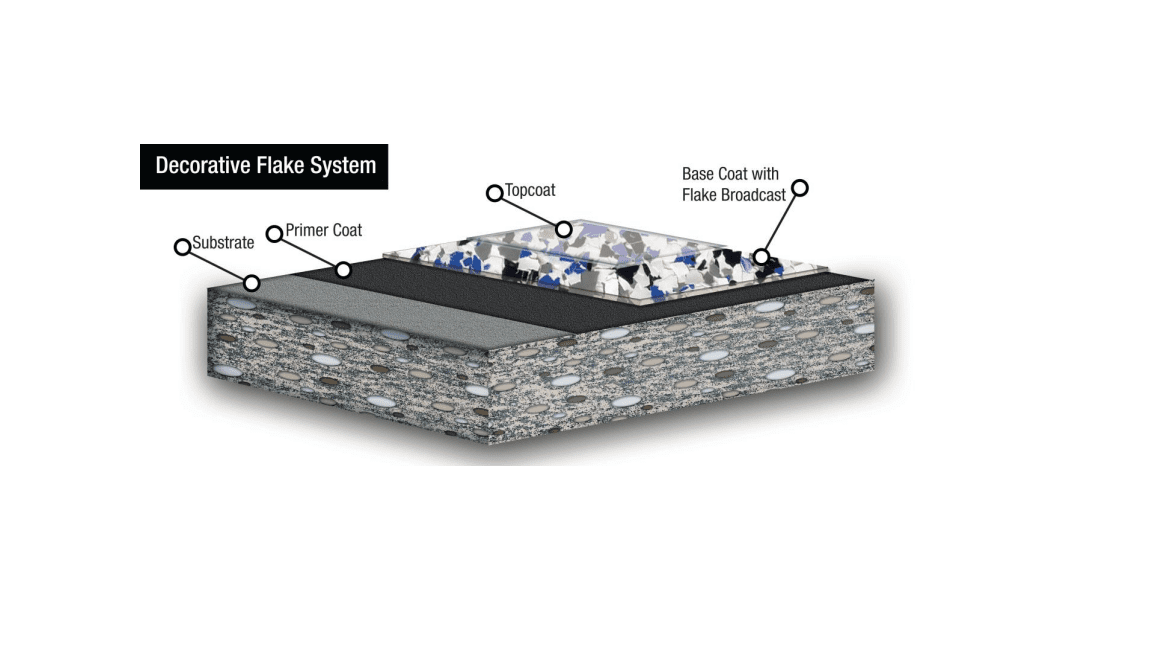 An Epoxy coating of primer/first layer of pigmented 100% is applied along with Solid Epoxy with a full broadcast of decorative chips. Once dry, there may be another layer of coating with chips, or it may go directly to a clear, protective coating called a grout coat, then a top coat which may be epoxy, polyurethane, or polyaspartic, provides a chemical-resistant slip-resistant seamless flooring system.
Recommended for:
Light to medium-duty traffic areas
Commercial applications
Corridors
Restrooms and showers
Locker rooms
Auditoriums
Cafeterias
Laboratories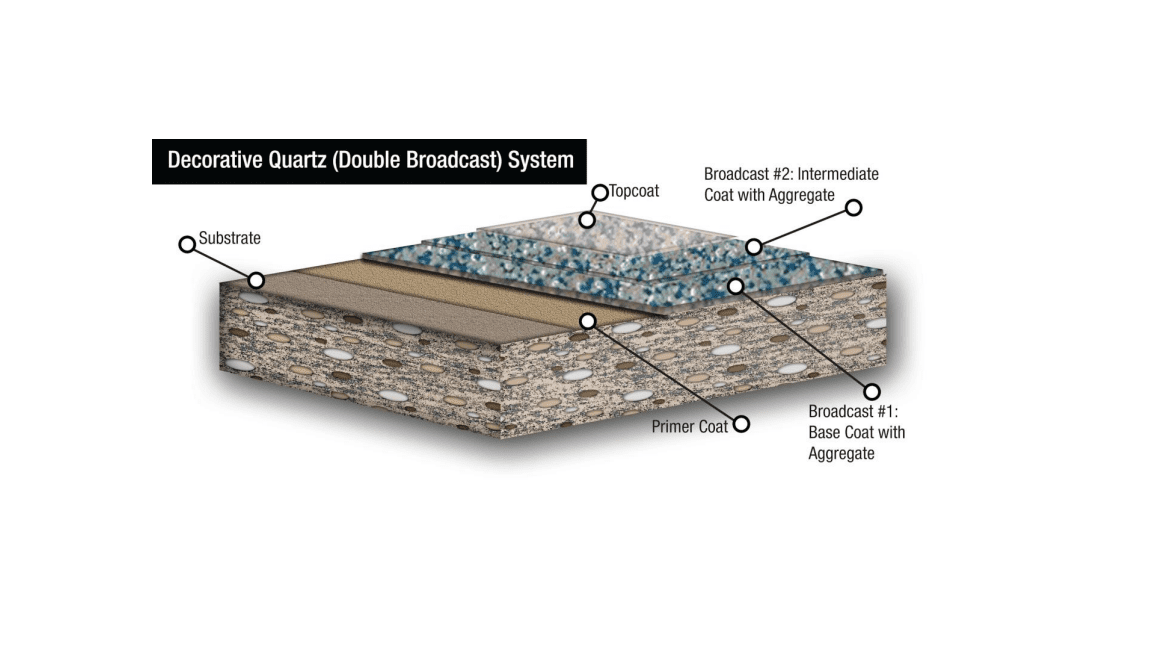 It contains two components, i.e., a 100% solid epoxy-resin binder with pigmented quartz aggregate. Coloured quartz imparts a slip-resistant surface that the applicator can vary.
Epoxy Quartz systems can have multiple options of different components within a system:
1. Single Broadcast Quartz Epoxy Flooring system (Self Level)
2. Double Broadcast Quartz Epoxy Flooring system (Self Level)
3. Epoxy Slurry (Hand Troweled) is a multi-component 100% solid epoxy floor coating blended with slurry filler or graded silica, which provides a high build system.
It's recommended for:
Light to medium-duty traffic areas
Commercial applications
Corridors
Restrooms and showers
Locker rooms
Auditoriums
Cafeterias
Laboratories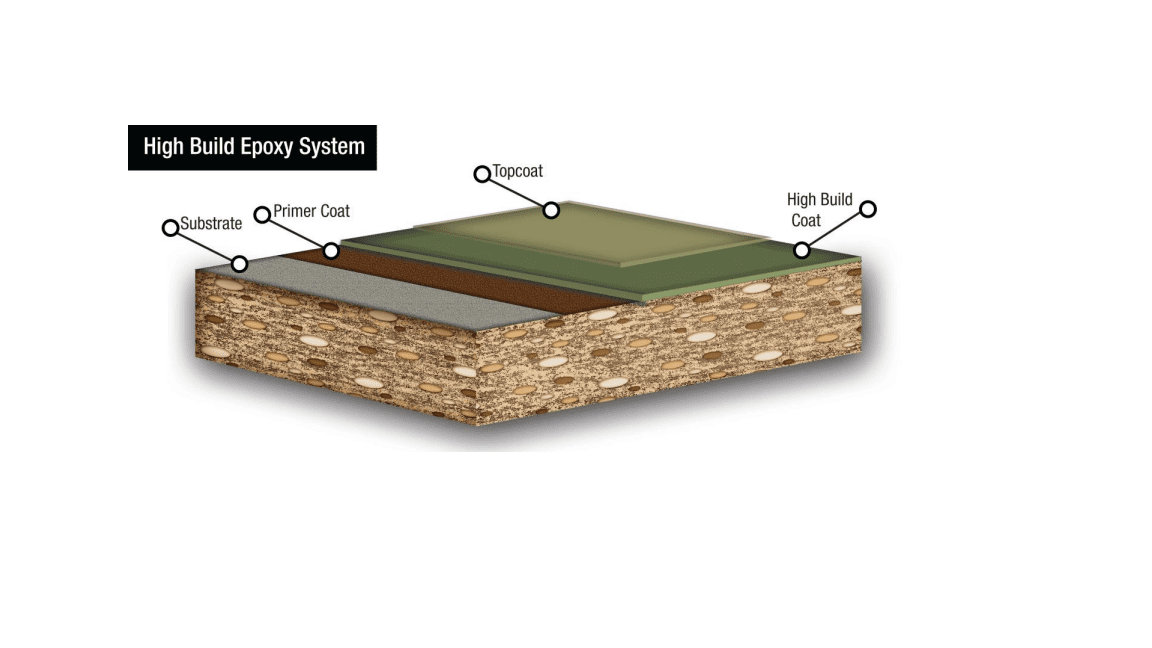 This Epoxy System is a high build, coloured epoxy/urethane, high-performance concrete coating system. It is used for environments requiring an attractive, high-performance floor or when a concrete floor has sustained damage requiring a thicker surface.
Recommended for:
Light to medium-duty traffic areas
Warehouses
Restrooms and showers
Locker rooms
Laboratories
Clean rooms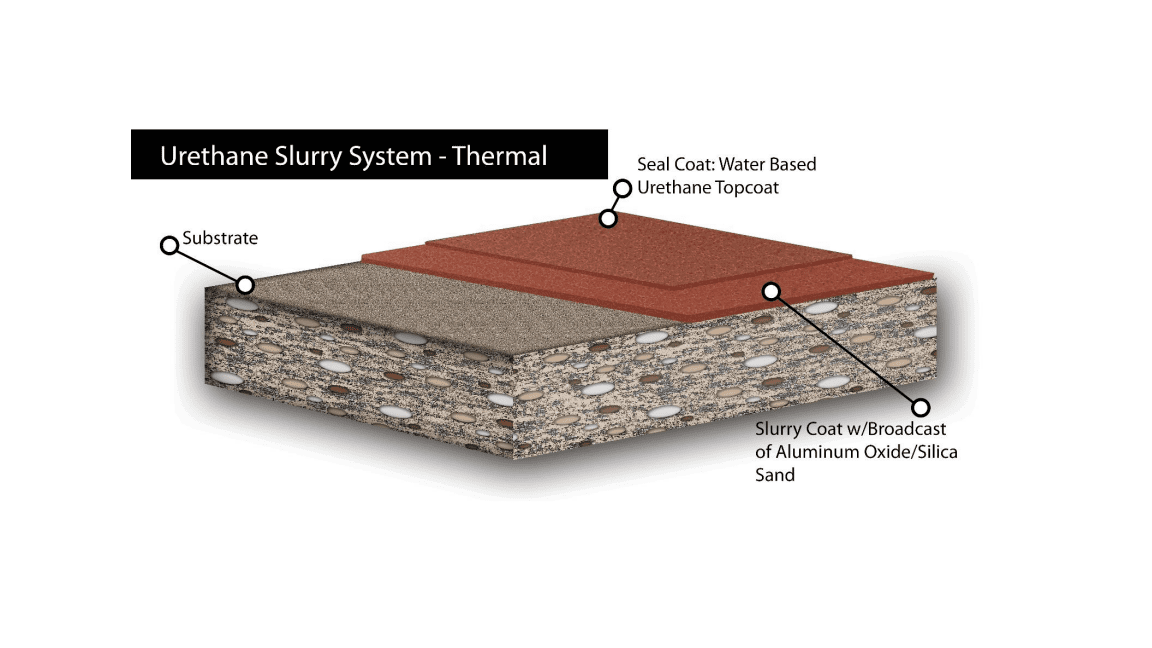 Urethane Slurry Pigmented & Decorative
Urethane Slurry System is a self-levelling, low odour slurry that can be applied at 1/8" thickness and broadcast to yield a 3/16" system. It is used with a durable floor that can withstand heavy and abusive service. Decorative quartz is used to provide a more attractive floor surface.
Some benefits include:
Thermal shock resistance
Good freeze/thaw stability
Slurry cures down to 45 degrees F
Impact resistant
Chemical resistant
Decorative
It's recommended for:
Food and chemical processing
Bakeries
Commercial kitchens
Breweries or bottling plants
Walk-in Cooler
If you have an upcoming construction project and you need a reliable commercial concrete company, look no further than Modern Day Concrete. We aim to provide you and your business with eye-catching but functional concrete wherever you may need it. Our team proudly serves the commercial market in San Antonio, TX, and the surrounding areas.
What We Can Do for You

From commercial epoxy concrete options to polished concrete and more, you can rely on us to use our years of experience to give your business the concrete flooring that it deserves. When we complete the job, you will enjoy a new commercial concrete fixture that will add to the aesthetic of your workplace while remaining as functional as possible.
To find out more about the many types of concrete that we work with, continue reading this page. If you have any additional questions, or if you would like to get started, feel free to reach out to us today.